Empowering Professionals through Excellence and Advocacy
We are North Carolina's Licensed Clinical Mental Health Counselors.

Our Mission - Licensed Professional Counselors serve a vital role in the mental health and wellbeing of North Carolina's citizens. LPCANC works to advance the clinical mental health counseling profession by advocacy and professional excellence. LPCANC provides a voice for public policy, directs the activities of our professional lobbyist, and responds to the continuing education needs of LCMHCs in North Carolina.
Advocacy
LPCANC is the only association in North Carolina that advocates for the licensed clinical mental health counseling profession.
Since 1995, LPCANC has been the main proponent for nearly every legislative and policy initiative in North Carolina. We are proud of the 18 successful advocacy initiatives such as the 2009 LPC Act, First Commitment Evaluation, the Professional Corporations Act, Medicaid, and more.
LPCANC is the only NC organization that retains a professional lobbyist to work on our profession's behalf.
LPCANC
proudly announces:
North Carolina is the 16th state to enter the Interstate Counseling Compact!
H791
is now NC law!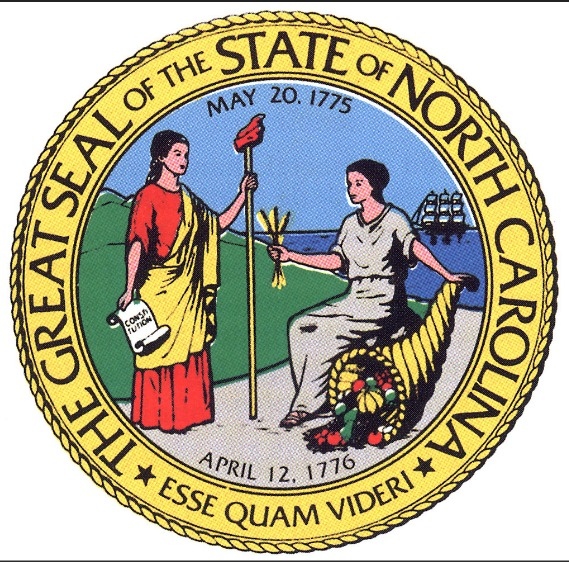 Quick Links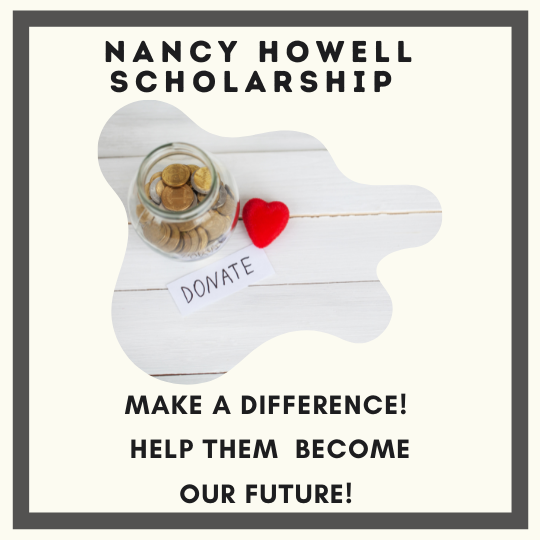 LPCANC is the North Carolina state chapter of the American Mental Health Counselors Association (AMHCA)


9-8-8 SUICIDE & CRISIS LIFELINE
In 2020, Congress designated 988 to become the national dialing code to reach the National Suicide Prevention Lifeline and to be phased into use as soon as possible. The current National Suicide 10-digit number is 800-273-8255.
On July 16, 2022, the 9-8-8 National Suicide Prevention Lifeline became activated. Nationally, SAMHSA (Substance Abuse and Mental Health Services Administration), coordinated this 988-rollout shortening the Lifeline contact number to only 3-digits - in the same way, 9-1-1 was shortened. This helped to codified the more general emergency services number nationwide more than 40 years ago.
Effective now, both the 988 and the 800- numbers will get callers to the same helpers. The 800-number will continue to function in the short-run and until the 988-number proves to work nationally as planned. If LPCANC members are sharing the 800-number for emergency mental health services currently, you may wish to give the 988-number a few days/weeks to insure it is working as planned before switching to the 988 access.
It is with great excitement that the Licensed Professional Counselors Association of North Carolina launches a new update of our amazing association.
In November 2019, The North Carolina Senate and House passed the Senate Bill 537 that changed the name of licensed counselors from Licensed Professional Counselors (LPC) to LIcensed Clinical Mental Health Counselors (LCMHC).
Upon this shift in the profession, it was determined by the LPCANC Board that to best serve members of our association, our name also needed to change.
After much discussion within LPCANC leadership and data collection from membership, the name Licensed Clinical Counselors of North Carolina was voted in during the LPCANC Board meeting August 2022.
The Board felt it necessary to create an individualized reflection of the updated credential that was bold, clean, and clinical.
The logo design also reflects how as licensed clinical counselors we cover the state of North Carolina with strength and steadfastness.LCCNC name and logo were then revealed live at the 25th Silver Anniversary State Conference President's Reception Septembers 30th, 2023.
Your vote will become part of North Carolina clinical history!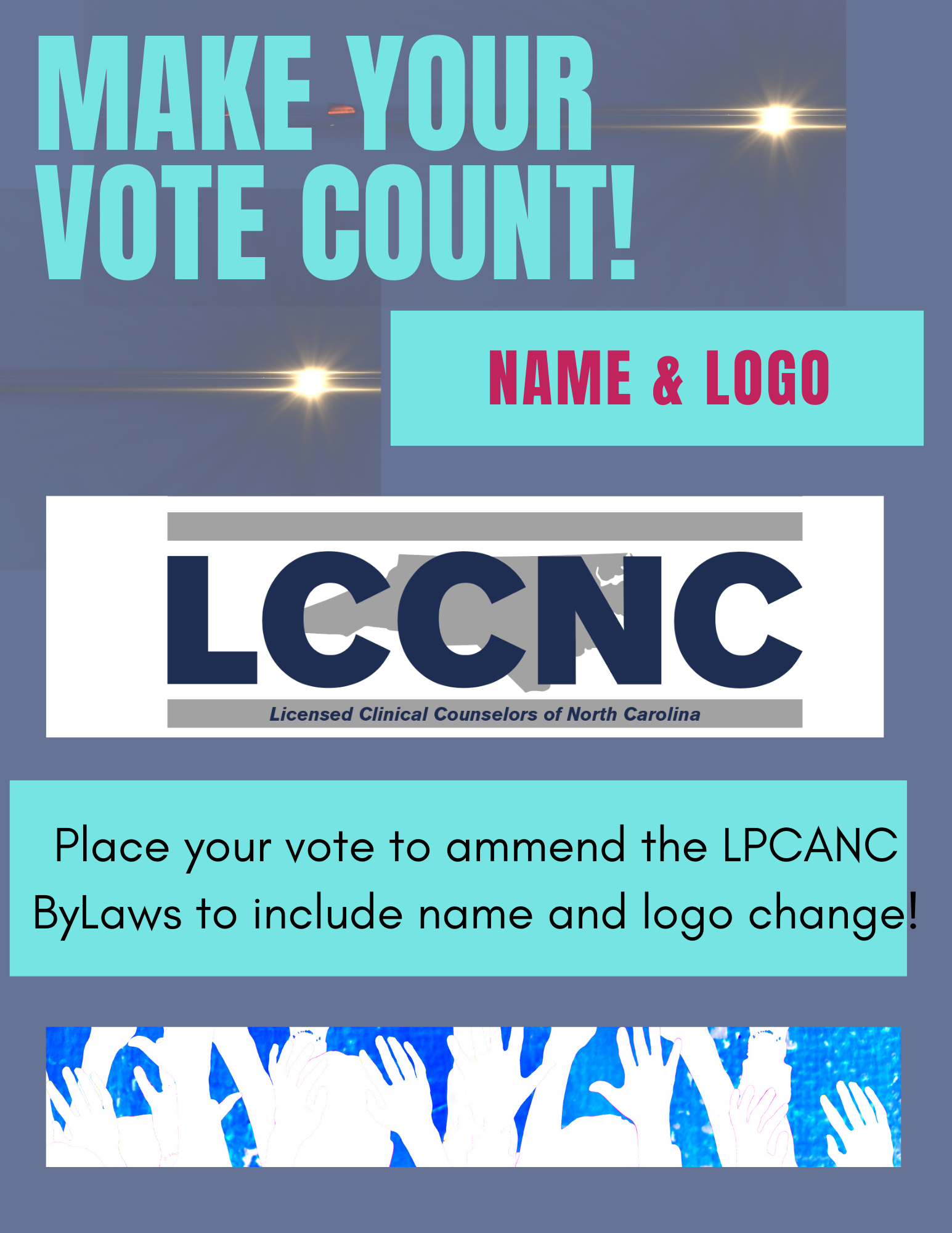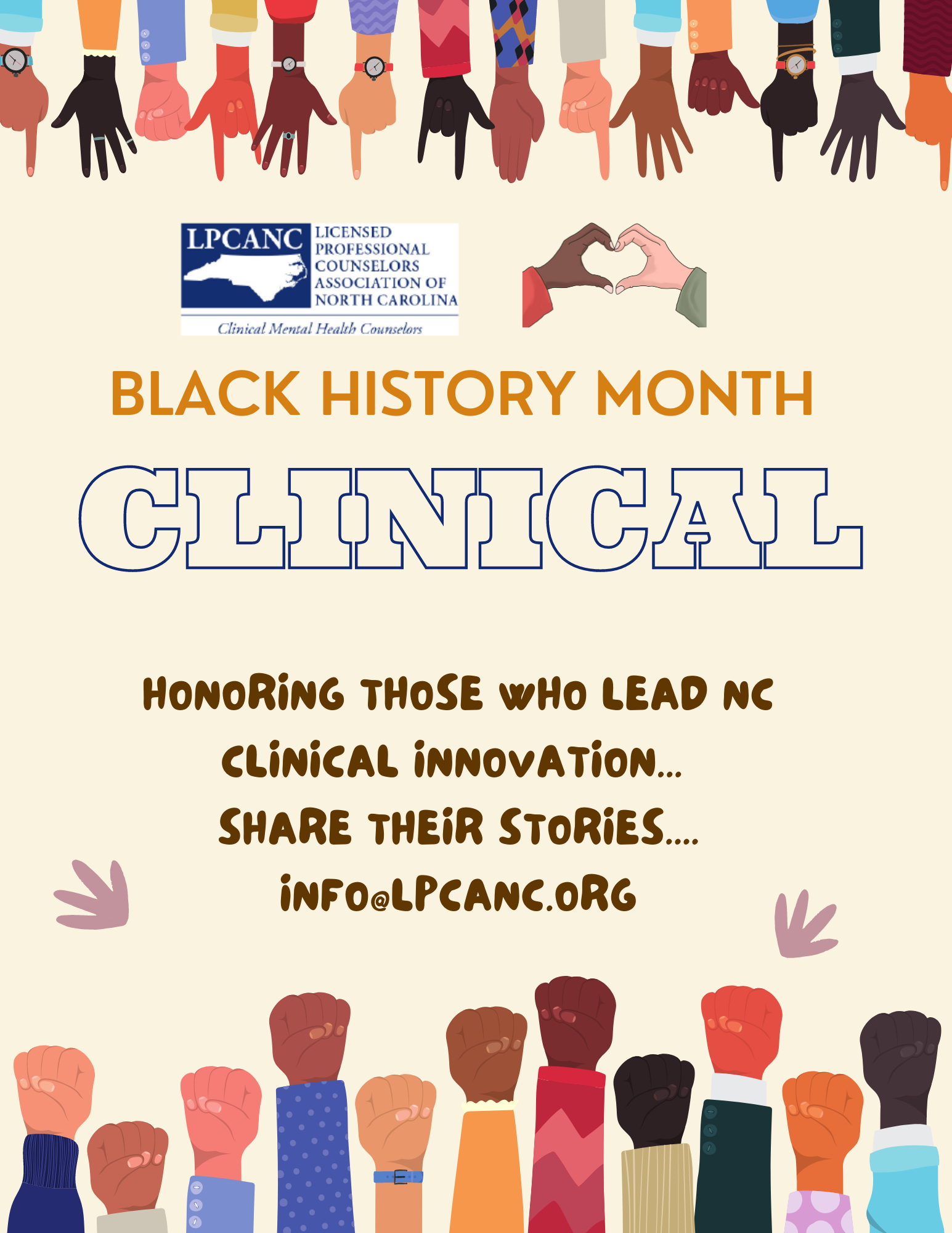 The LPCANC Communications Committee is gathering stories of local talent to share on our social media for Black History Month. Mention them at info@lpcanc.org.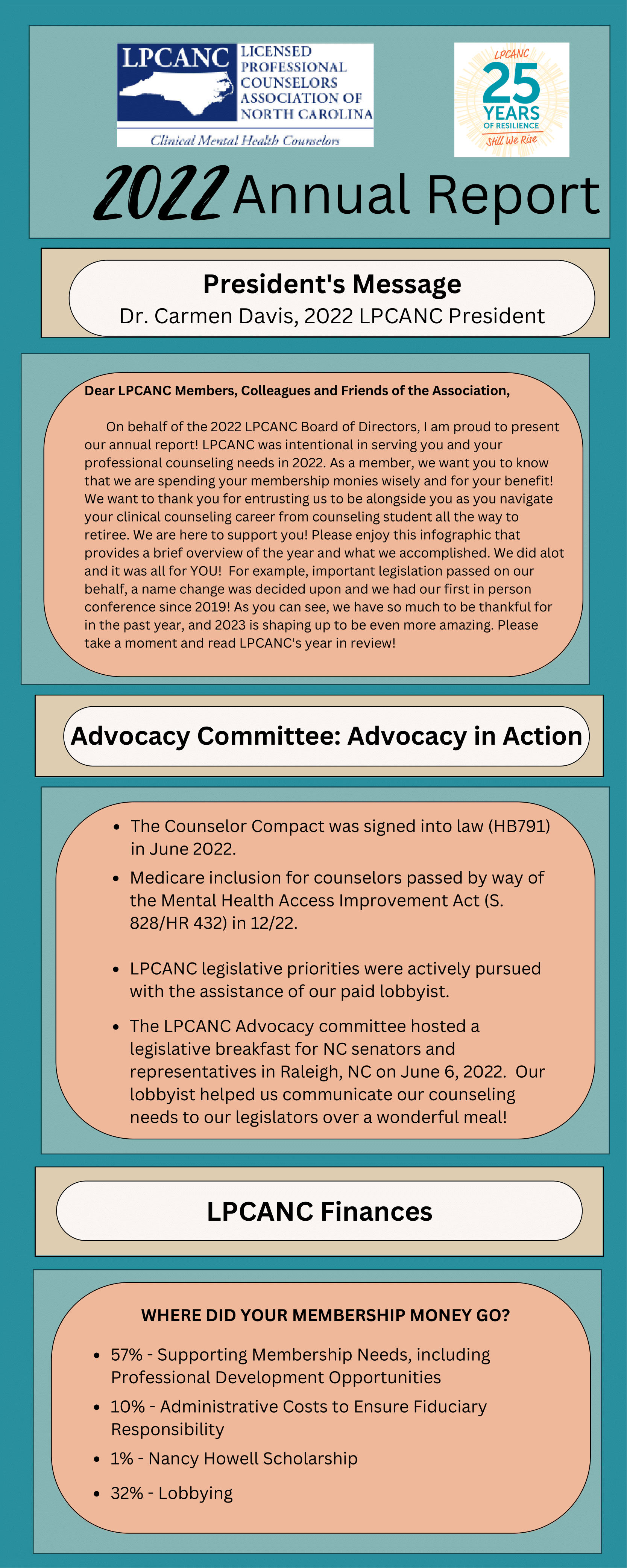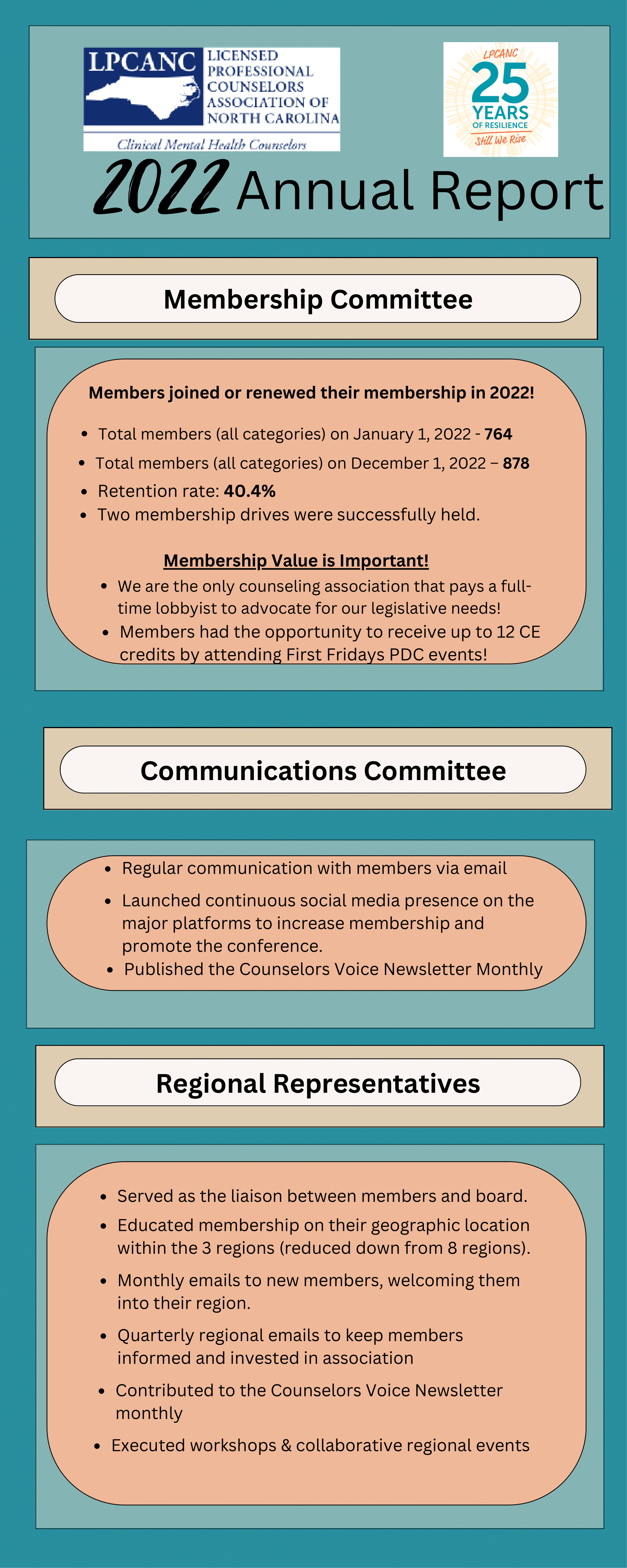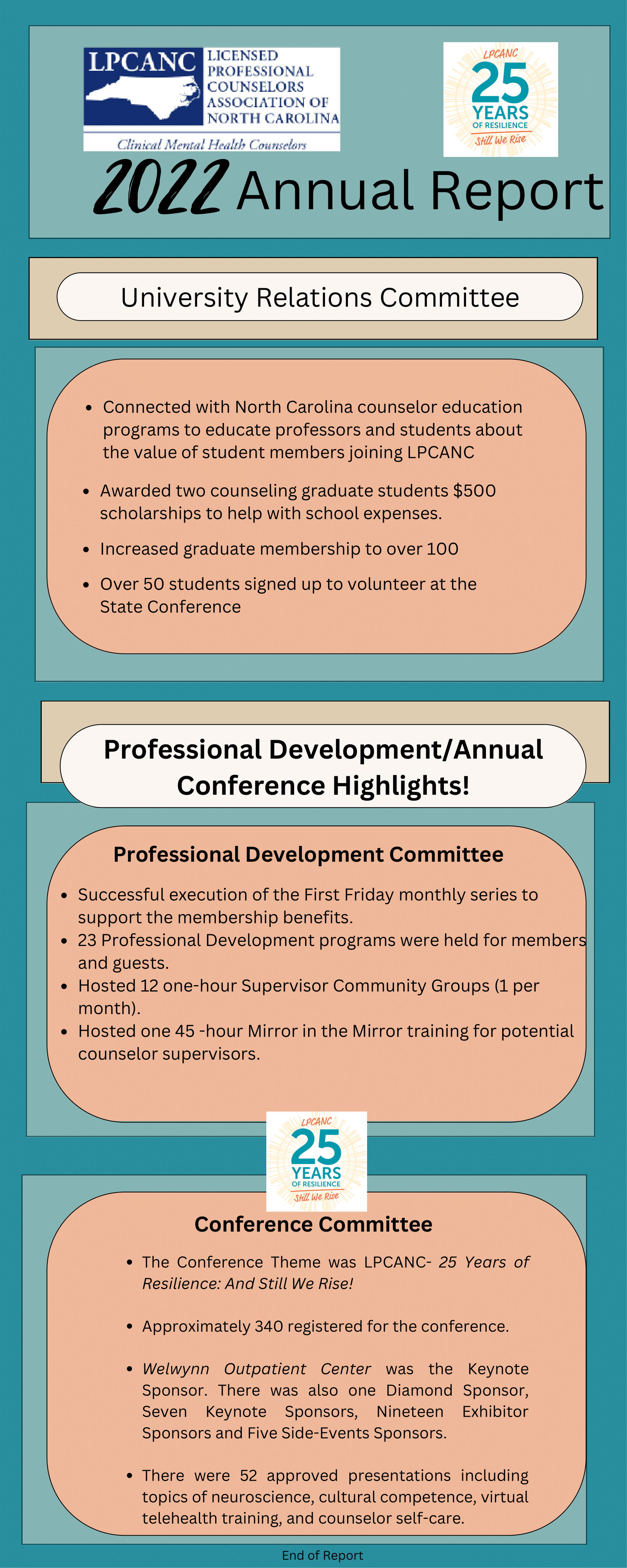 Member Highlights
Welcome Amber Hinson, Malaika Edwards, Raymond Pantaleo, and Niah Singletary
Thank you for recently joining LPCANC as a Student Member!
Welcome Anna Weber, Lida Lisowe, Margaret Huss, Kiersten Traylor, Elizabeth Norris, Lina Rios, Rachel Heitman, Brian Constantine, Jennifer Mally, Anita Crutcher, Colleen Oliver, Rebecca Rankin, Emily Reiner, Cassandra Phillips, and Deborah White
Thank you for recently joining LPCANC as a New Professional Member!
Welcome Lynne Allred, Alice Berry, Raymond Voegeli, Yvonne Solomon, Jennifer Roach, Suzette Aiken, Shiela Lee, Cassidi Long, Rachel Lane-Behroozfard, Deborah Gipple, Carmen Davis, Rachel Lane-Behroozfard, Kathryn Hunsucker, Mary Thompson, Mary Hinson, Tamatha Fortune, Melissa Garriss, Jayne Davis, Tracie Miller, Selin Tastan, Stephanie Crowe, Sheila Thomas, Gabriell Pringle, Jill Wheeler, Amy Hooper, Betty Robinson, Lisa Bolumen, Nicole Rose, Frances Gordon, Mary Grant, Frank Barron, Precious-Pearl Johnstone, June Albright, Lisa Salo, Thomas Campbell, Louis Giordano, Andrew Finkler, Debra Barfield, Caryl Barga, Thomas Woodard, Janet Keny, Hugh Willard, Hillary Rubesin, Victoria Butler, Tekeyla Jones, Erin Davis, Anntoinette Thompson, Anita Hodnett, Tekeyla Jones, Stephen Woods, Regina Midgett, Robert Reinhardt, Lynnee' Ryan, Anecia Lee, Dolores Huffman, Hugh Willard, Joan Durham, Edith Barton, John Gilmore-Cronin, Lynne Allred, Astra Czerny, Kathy Spurlock, Meredith Robbins, Matt Bartholf, Karla Townsend, M. Kassandra Webster, Kemba Mason, Katherine List, Arika Morrison, Pamela Harris, Mariana Glass, Linda Evans, Wanda BrownRamseur, Janet Keny, Brittany Todd, Ethel Warner, Lindsey Brown, Lakeisha Ward, and Roy Sinclair
Thank you for recently joining LPCANC as a Professional Member!
Welcome Leigh Raynor, Susan Brooks, and Barbara Wilson
Thank you for recently joining LPCANC as a Retired Member!